Barry Sanders: The Greatest Running Back of All Time
The Greatest Running Back of All Time
Who is the greatest running back of all time?  For Lions fans, this is one of the easiest answers you will get to one of the hardest questions you can ask.
The answer is always and will forever be Barry Sanders.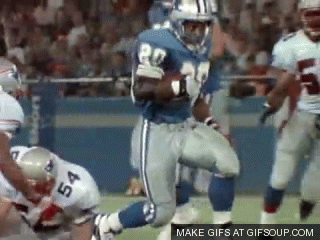 Born in 1968 in Wichita, KS, the 5 foot 8 running back would be a late bloomer. It would be the fourth game of his senior season where Sanders would see his first start, and then he would be off to the races.  He would rush for 1,417 yards in seven games, earning him all state honors.
He would be recruited by Oklahoma state where he would be a backup to Thurman Thomas.  In limited action as a running back Barry would rush for 928 yards and 11 touchdowns in his freshman and sophomore year.  He would also shine as a kick returner averaging 31 yards per return and adding two TDS.  It was in 1988 that the world would learn who Barry Sanders was.
Sanders turned in what some consider to be THE single greatest season in the HISTORY of college football.  That year, Sanders set the single-season record for rushing yards, and rushing touchdowns, and points scored, and touchdowns from scrimmage, and yards from scrimmage.  He rushed for over 300 yards four times, while averaging 7.6 yards per carry and over 200 yards per game.
While being the feature back wasn't enough Barry would still be the teams primary return specialist and add 516 yards and a touchdown.  He topped it off with a 222-yard 5 touchdowns performance in the 1988 Holiday Bowl. The Heisman Trophy was a no-brainer that year.  He would forego his senior year and declare for the NFL draft.
The Detroit Lions and Losing
In the NFL, Barry was drafted third overall by the Detroit Lions.  The greatest Lions coach in history, Wayne Fontes, was an advocate for the running back out of Oklahoma State.  In his first season Sanders IMMEDIATELY made an impact. He rushed for 1,470 yards and 14 touchdowns in his rookie season.  Sanders brought home the Offensive Rookie of the Year award. He was also named a First-Team All-Pro and selected for the Pro Bowl.
Barry would carry the Lions…and I mean literally carry the Lions.  Like they're that bad. Imagine how bad you think the Lions are and then imagine being a Lions fan and watching Barry Sanders play.  The greatest running back of all tie playing for quite possibly the sorriest franchise in all of professional sports.  I digress tho…
Barry would carry the Lions to the playoffs five ties in his career.  Leading the team to two central Division Titles in 1991 and 1993.  In 1994 Barry rushed for 1883 yards. That would turn into an Offensive Player of the Year Award.  The Lions would lose to Green Bay at Lambeau Field 12 to 16.
In 1995, Barry rushed for 1500 yards.  The Lions lost to the Eagles 37 to 58.
2,000 Yards
In 1997, Barry had his greatest season yet.  He became the 3rd running back in the 2000 yards club.
Look, this is how good Barry's 2000-yard season was.  After the first two games of the season Barry had only rushed for 53 yards on 25 carries.  He would then reel off 14 straight games of 100 yards or more.  In that span, he only rushed for 200 yards in two games.  He would win an Offensive Player of the Year award and share of the 1997 Most Valuable Player Award with Brett Favre.  The Lions would face the Tampa Bay… they lost. That's what I was gonna say. They lost.
Barry would rush for 1,491 yards in his final season in 1998.
Barry won four rushing titles, and one touchdown title. He was an All-Pro and a Pro Bowler EVERY year. He was a two-time offensive player of the year. In 1997, he was named NFL MVP after becoming just the third player in NFL history to record a 2,000-yard rushing season.
Look we all know on that morning Barry faxeddd in his retirement papers to the Wichita Eagle that he was the greatest back of all tie.  At the time of his retirement he had 15,269 career rushing yards. That was just 1,457 yards behind the late great Walter Payton on the all-time rushing list.  Walter Payton had played 13 seasons. Barry had only played 10 the record was in Jeopardy.
Walter Payton was one of thee greatest backs of all tie. But he wasn't better than Barry.
Emmitt Smith would go on to break Payton's record. But he wasn't better than Barry.  You can mention Adrian Peterson Frank Gore and many others but as all Lions fans know.  No running back on Earth was better than Barry Sanders.
He was fast and explosive; graceful and elusive. He was humble.  The man who embodied the quote "When you get inside the endzone act like you been there before".  NOBODY broke more ankles, broke more tackles, eluded defenders and created highlights more than number 20.  Eight defenders in the box be damned, they didn't stand a chance against The Greatest Running Back of All Time.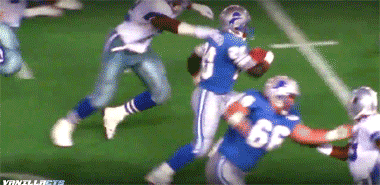 Also. can we like have this one since the Lions suck and all can this just be unanimous?